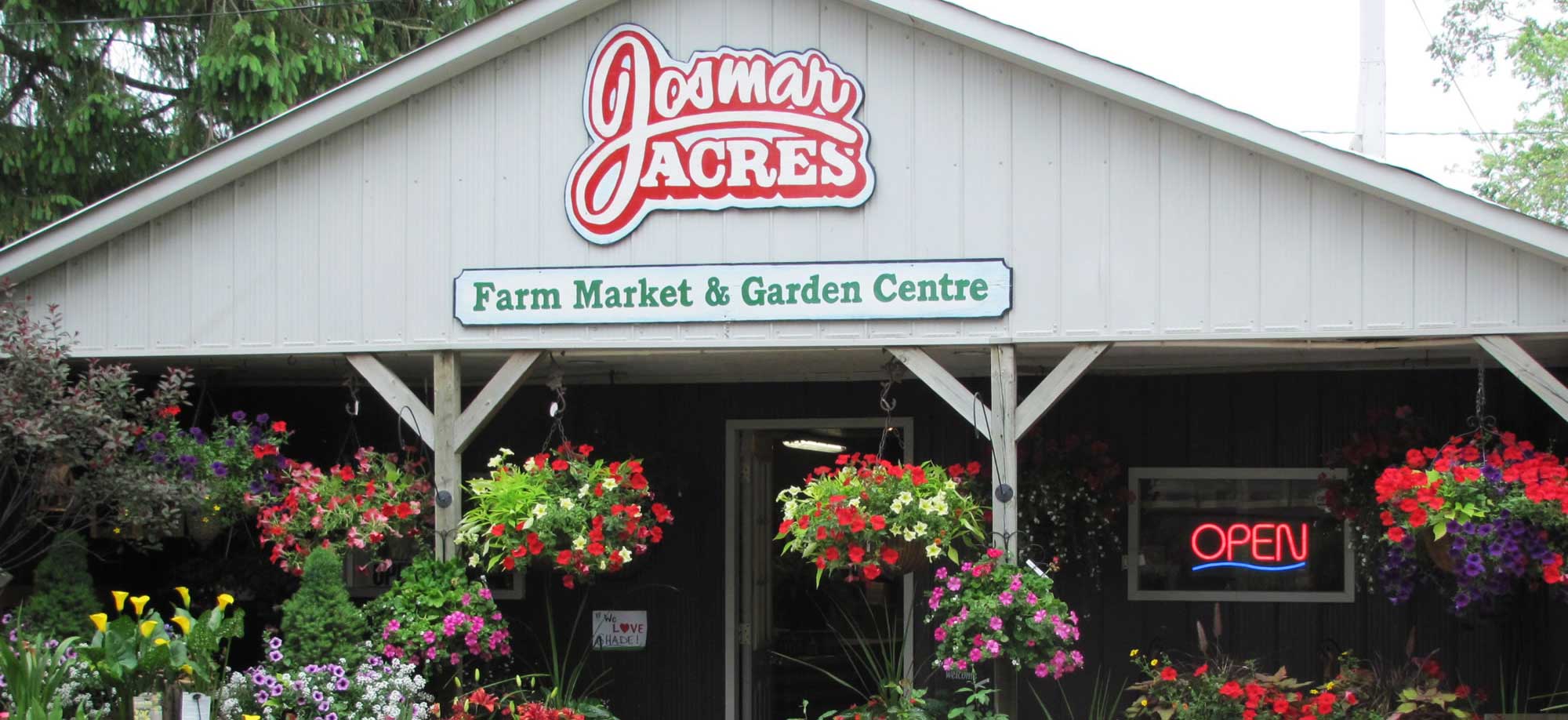 Established in 1974, we strive to serve you better everyday!
Since 1974, Josmar Acres has grown into a diversified family farm business. As a third-generation farm, we manage a broiler breeder operation and cash crops of wheat, soybeans and corn. We also grow a variety of horticulture crops like strawberries, sweet corn, plums, pears, apples and pumpkins, that are freshly delivered through wholesale and served to you through our Farm Market and Garden Centre.
Our Farm Market and Garden Centre prides itself in the best selected produce and has expanded over the years to include many products and fresh produce from our Ontario farmer friends. We are large enough to serve you, but small enough to care!
We are called to be Good Stewards of the land. Over the last 40 years, at Josmar Acres we have strived to farm in a sustainable and environmentally friendly manner.
We want to continue our good stewardship and there are a number of ways we put this into practice. First, understanding the soils we grow in helps produce healthy plants which can ward off diseases and insect pests. Annual soil testing and tissue testing indicate what each field requires in terms of nutrients. We band (apply fertilizer close to the plant in small amounts) to minimize any run-off and maximize efficiency. We also use soil amendments such as carbon and humic acids to build organic matter along with crop rotations and cover crops; all the while realizing that the soil microbial life has a huge impact on nutrient availability and plant life in general.
As well, regular crop scouting gives us the opportunity to observe pest thresholds and deal with them appropriately under our Integrated Pest Management Program. Biological, physical and mechanical controls (such as mowing, cultivation and hoeing) are implemented before a chemical program is even considered.
Producing nutritious fruits and vegetables in a sustainable way is not the only environmental practice Josmar Acres does. Careful water management and soil preservation is implemented through the utilization of trickle irrigation and cover crops.
With proper attention to soil ecology and the surrounding environment; we desire to provide you with nutritious fruits and vegetables. We hope that Hippocrates's famous saying, "Let food by thy medicine and medicine be thy food" may become your daily reality.